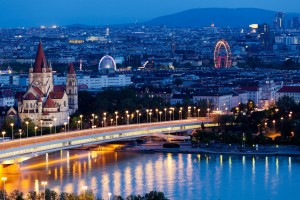 Vienna has a unique history of wine production.  The bustling capital city is home to 612 hectares (1,500 acres) of vineyards, planted in both the outer districts and outskirts of the city.  These vineyards provide a substantial amount of lovely scenery as well as a significant economic input to the city of Vienna.
The quality wines of Vienna are classified under the Weinbaugebiete region of Wien (Vienna). As is to be expected for a modern urban region, Wien is by far the smallest, in terms of both square mileage and production, of Austria's four Weinbaugebiete. Wien produces a mere 1% of the total output of Austria.
Traditionally, wines from Wien have been known as "Heuriger,"or wine tavern wines.  A unique Austrian tradition, a Heuriger is basically a tavern operated by a wine maker and may only serve its own wines.  Some are open year-round and serve a wide variety of food, while others, known as "Buschenschank" are hidden among the vineyards and may only be open a few weeks a year, serving the new wine of the vintage and simple "snacks" to accompany the wine.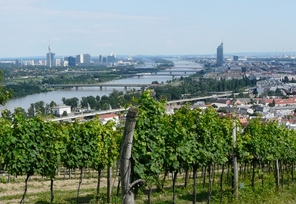 Nowadays, the wines of Wien are enjoying a newly-found reputation as fine wines; many are to be found on the wine lists of the most forward-thinking and renowned restaurants, and some have even reached "cult wine" status. As of the 2013 vintage, the region's traditional wine has earned the highest classification status available to Austrian wines – the Districtus Austriae Controllatus (DAC).
The new DAC – only the ninth one to be granted in Austria – is known as "Weiner Gemischte Satz." Gemischter Satz means (loosely translated) "mixed set" and the qualifications for the DAC are both highly unique and very strict. This style of wine has been called "all of Vienna in one glass."
To qualify, the wine must be made from white wine grapes grown in Vienna area vineyards planted with at least three quality grape varieties. The grapes must be harvested, pressed, and fermented together, with the largest portion of a single grape variety no more than 50% and three varieties must make up at least 10% each. The wines are meant to be fruit-forward and are not allowed to show "significant influence of oak."
An unusual factor of this DAC is that the grapes must not just be processed together; they must also be grown together in what is now known as a "field blend" – side by side in the vineyard. While the regulations require a minimum of three different varieties, up to 15 varieties are listed as "approved" for use and may be present in a single wine.  Approved varieties include traditional Austrian varieties such as Grüner Veltliner, Sylvaner, Traminer, Rotgipfler, Neuburger, Weissburgunder (Pinot Blanc) and Grauburgunder (Pinot Gris), as well as international varieties such as Chardonnay (sometimes known in Austria as "Morillon").
Viennese wine not made according to the strict standards for the Weiner Gemischte Satz DAC will continue to be bottled under the Wien Weinbaugebiete category.
Click here for more information on the new DAC from the AustrianWine.com website.
Click here for a discussion on the new DAC from Weininger.
Click here to return to the SWE Website.