Today we have a guest post from Linda Lawry, CWE, DWS. Linda is always one of the most popular speakers at our SWE Conferences. In this post, Linda tells us a bit about her upcoming conference session entitled "On the Wine Routes of Europe with Thomas Jefferson."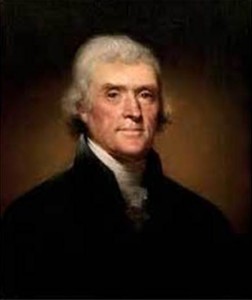 "Wine from long habit has become indispensable to my health."           – Thomas Jefferson
Thomas Jefferson, third President of the United States, was a multi-faceted genius whose numerous areas of expertise ranged from architecture to zoology.  His passion for wine, while largely  neglected by historians, is one of the most fascinating aspects of his persona.
Jefferson's journals and correspondence contain many references to wine, including detailed critiques of the wines he tasted.  He may, in fact, have been American's first wine critic.
In 1787, while he was living in France as a representative the Untied States government, Jefferson took a three-month tour of many of the wine regions of France, Italy, and Germany.  He traveled incognito, so that he could learn what life was really like in these regions, and so that he would not have to spend his time in formal dinners with the aristocracy. He sought out vine growers and winemakers as well as the "common man and woman" living in the various wine regions.
Lucky for us modern-day wine lovers, Jefferson kept an extensive diary of his adventures in the wine regions of Europe, charting his travels as well as his opinions on quality and character of the inns, the food, the architecture, and of course, the wines he tasted. His diaries are a fascinating insight into the wine world of the 18th century, and of the character and persona of this complex and charming man.
At the 2014 SWE conference in Seattle this August, I will give a program on Jefferson's European wine adventure. We will taste wines from the regions he visited, including some of the very same wines he tasted back then, which (lucky for us), are still being produced today.
Linda Lawry, CWE, DWS, is the Director of the International Wine Center in New York City. She is also on the faculty of New York University, where she has been teaching the Wine and Spirits Studies course in the Department of Nutrition and Food Studies since 1997. She is a member of the Board of Directors of the Society of Wine Educators, a member of Les Dames d'Escoffier, and program co-chair of the Culinary Historians of New York. Linda graduated with honors from the New York Restaurant School, holds the WSET Diploma, and is a Certified Wine Educator.
Linda's session, "On the Wine Routes of Europe with Thomas Jefferson," will be held on Thursday, August 14, at 1:15 pm as part of the 38th Annual Conference of the Society of Wine Educators.
Click here to return to the SWE Main Website.