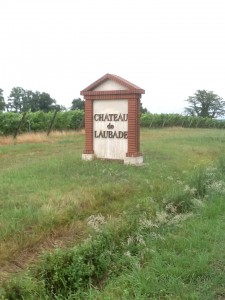 Today we have a guest post from Hoke Harden, CSS, CWE. Hoke is well-known to SWE members as one of the contributors to the original CSS Study Guide and a popular (and highly-rated) conference speaker. Hoke invites us to travel back in time with a visit to Château de Laubade in Armagnac, and taste France's oldest brandy, made by time-honored traditions now codified into law.
Located in the departement of Gers in the Gascogne region of south-west France, situated in the verdant rolling foothills of the Midi-Pyrénées, Armagnac hews to the old ways to make a unique rustic and earthy brandy celebrated the world over.
Brandy began here on the many small family farms dotted across the landscape. Thrifty landholders naturally cultivated wine grapes amongst their other crops so good, basic drinking wine could grace their tables. Eventually, the wine found its way into brandy—although most of the farms were too modest to have their own distillery and each year they waited until a local distiller could hitch up his portable still and take it to each farm for custom distillation.
Thus custom and tradition created an agreement on basic methods of brandy production, but allowed, even encouraged, a fiercely independent style by each small-batch producer, since most of the brandy would remain for family consumption, unlike its famous northern neighbor, Cognac, which was focused primarily on commercial exports. Today, the commercial houses of Armagnac remain fairly small concerns, with each having its own way of doing things, but all bound by the officiating body of the Bureau National Interprofessionel du Armagnac.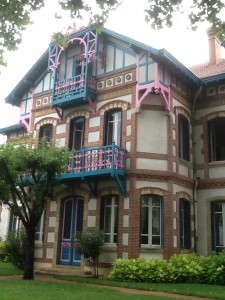 Château De Laubade, located in the tiny village of Sorbets in the Bas-Armagnac AOC, is a storybook picture of a place, with its gated entrance, sturdy round tower and ancient mottled brick buildings leading to a fanciful Normandy-style chateau from 1870 perched on a hill to view the sweeping expanse of vineyards in the valley below.
These well-tended vineyards are essential, for only they are used for Château De Laubade's Armagnacs. After the upheavals of phylloxera and oidium that devastated French vineyards, Armagnac recovered and settled in with several approved varieties, but at Laubade, only the four key varieties are allowed: Ugni Blanc, known in Italy as Trebbiano, a workhorse grape;  Folle Blanche, a delicate and floral variety that is susceptible to rot and difficult to farm; Baco Blanc, a French-American hybrid cross between Folle Blanche and Noah intended to give the character of Folle Blanche without the problems; and Columbard, which in this terroir provides impressively spicy and herbal characters to the blend.
Each year the varieties are harvested, fermented, distilled and barreled individually, to be aged and blended by the master distiller into the various Armagnacs the estate produces.
Originally, all distillation in Armagnac was done in a pot-and-column continuous copper still , an alembic Armagnacais, so only one distillation was required to gain sufficient alcohol strength and clarity. Today, any type of distillation is permissible; most distillers use the traditional method, others use the alembic double-distillation approach, depending upon style preferences.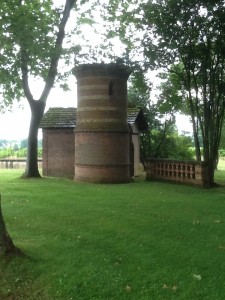 Another traditional touch comes in with the choice of barrel. The Armagnacais traditionally prefer initial aging, from six months to a year, in a local black oak heavy in tannin from the nearby forest of Monlezun, then transferring the eau-de-vie to lighter, finer-grained, and older, more subtle toasted oak barrels from such sources as Limousin and Tronçais for continued but more elegant development.
The minimum aging to be designated Armagnac is one year, but most are blends of much, much older brandies to create the various VSOP, Reserve, XO, Hors d'Age and other well-matured designations.  Armagnac has also continued the tradition of maintaining single-vintage and single-variety releases, with the proviso that any single-vintage must be a minimum of ten years in barrel prior to release.
To maintain blending stocks, and to retard the loss of precious alcohol through evaporation in barrel, when a brandy has gained all it can from the barrel, it is racked into large bulbular glass demi-johns, which are then placed in the most revered cellar location, referred to as Le Paradis—Paradise.  These will be doled out in miniscule amounts and used judiciously to enhance new blends with added depth and nuance.
In one of the more remarkable tastings I have been fortunate enough to enjoy, a master distiller at Chateau de Laubade took me through three levels of sampling.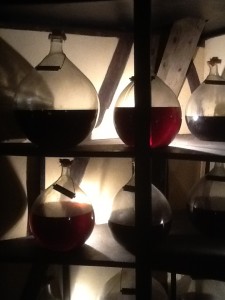 First, he provided four samples of eau-de-vie from the 2013 vintage which had received no barrel treatment: Ugni Blanc, Baco Blanc, Folle Blanche and Columbard. The differences among the 'naked' eau-de-vies were immediate, impressive and actually somewhat startling. The Ugni Blanc was lean, tight, mineral, and tartly, astringently acidic. The Baco was the reverse of that coin, rich, earthy, full in the mouth and expansive. The Folle Blanche was wonderfully floral, light, and bright and lively.  And the Columbard was impressively spicy and tangy and strong with herbal coriander-seed aromas.  Even from this rough and undeveloped primal state, one could easily see the wide range of possibilities a blending could take in the hands of a master.
For the second step, the master distiller brought out four more wines—again, the four basic varieties, but this time they were individually barrel-aged samples: an Ugni Blanc and Baco Blanc from the 1994 Vintage, a Columbard from the 1995 vintage, and a Folle Blanche from 2001.
Again, the differences were immediate and amazing. The mature Ugni Blanc had become forceful and deeply colored, but had maintained that almost steely intensity and structure it showed originally. The Baco, on the other hand, had become even richer, more rounded, and significantly more earthy, with an umami-mushroom undertone. The Columbard had deepened and strengthened its herbal-spice focus, tightened its structure, and had become one of the most singularly expressive Columbards I had ever experienced. And the Folle Blanche had developed a lacy, fruit-floral elegance and airiness that was lovely to linger over.  Again, one could consider the infinite possibilities of mingling these creatures into a master blend.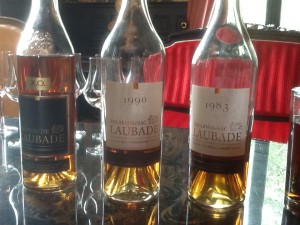 For the last stage of the tasting we strolled over to the chateau and in the midst of the lavishly decorated sitting room, overlooking the vineyards, I was offered my choices of a dazzling array of bottles from the offerings of Château De Laubade.  While wishing I had the fortitude to taste each and every one of these precious mahogany brandies, I restrained myself—with difficulty–to only a few select choices:  an XO with 15 to 25 years of age; an XO l"Intemporel No. 5 with 25-50 years; a vintage 1990; a vintage 1983; and as a finale, a vintage 1942, a brandy I simply could not resist.
The import of the previous tastings varietal tastings became evident , for with these armagnacs I could discern the contribution of the varietal characters as well as the resonance and depth that maturity brought to the marriage.  The firm linear structure of Ugni Blanc was enhanced by Baco's warm, earthy richness, with the spice-lash of Columbard coming up from below and the lacy aromatics of Folle Blanche wafting above, and all coming together in the center with four made one and sum magnificently greater than parts.
In the two XO's, differences of age showed clearly. The younger  XO was lighter, brighter, with more citrus and flower and orchard fruit shining clearly, only beginning to show the tinges of oncoming maturity along the edges. The older No. 5 Intemporel, with obvious and welcome richness from Baco, was profoundly deep and brooding, redolent of dried orange peel, savory mince, and prunes vying with old leather, cocoa, and baking spices, and lingered for the longest time.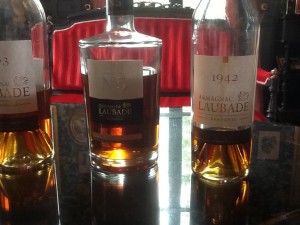 The 1990 Laubade, a worthy reminder of the worldwide excellence of that vintage, was still bright and lively with apricot fruit, laced with firm acids, and showing the ability to age gracefully for many, many years.  Again, the striking elements of structure, earthiness, spice and flower were all present. Think of the 1990 as an Audrey Hepburn Armagnac: always young, always charming, teasing, enticing and never out of style.
The 1983 Laubade was more abundant, with more heft and weight and substance, with the feeling it was just now beginning to hit its prime. The foundation of Ugni and Baco were clearly there, with the Baco deepening and mellowing, yet, oddly enough, allowing more room for the spicy-herbal Columbard and faint floral perfume of Folle Blanche to "fill in the spaces" seamlessly, showing the pure mastery of the blender's art coupled with the seasoning of age.
The 1942 Laubade was a quiet work of art, a gentle, soft, round, warm delight. Initially a bit tentative, it warmed and expanded in the mouth, and the post-nasal aromatics effulgently stimulated the senses. There is something profound in a brandy that bridges the years, that connects you to a time before you were born and like an old film or photo album calls up glimpses of things you never experienced.
In 1942 France had been ignominiously conquered by archenemy Germany, had the heart of its country occupied, with the pitiful remainder shoved into Vichy. The devastating war was flaring even higher, spreading all over the world.  Times were still difficult in Gascony but the land endured, as did the people, and there was even guarded optimism for a brighter future. Grapes still had to be harvested, wine made, brandy distilled.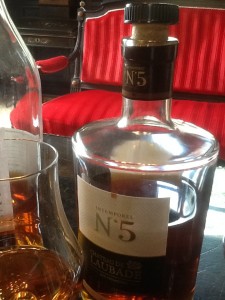 This Armagnac was a sign of that future; made in hard times, perhaps it would be consumed in far better times. Such is the cloaked power of a well-made brandy, made reverent with age.  And such is the power of Château De Laubade Armagnac that 70 years later the brandy remained vibrant and alive – while the distant past was only dull regret and faded memory.
About the author: An enthusiastic lover of wine and spirits, Mr. Harden left a career in academia to follow his other muse for the last 27 years, trekking around the world to the great producing regions. Recently referred to as a veritable walking omnibus of wine and spirits knowledge, he has experienced every possible facet of the world of wine and spirits as a retailer, restaurateur, bartender, buyer, wholesaler, supplier, marketer, critic, writer, competition judge and an educator. He is currently with Elixir Vitae Wine & Spirits Consultants, a member of the Society of Wine Educators, Wine & Spirits Instructor at Mt. Hood Community College, and a Master Instructor with the French Wine Academy.