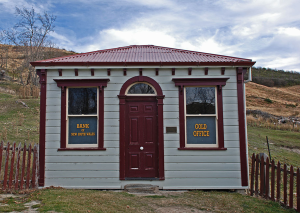 Wine students are well aware of the effect that California's Gold Rush (1848-1855) had on wine production in northern California – namely, that between 1856 and 1857, gold fever turned into vine fever, and winegrape plantings in the area more than doubled!
However, did you know that Central Otago had a gold rush of its own?
It all began in May of 1861, when gold was discovered in an Otago Valley now known as Gabriel's Gully. The site is located about three kilometers from the town of Lawrence, close to the Tuapeka River.  The discovery at Gabriel's Gully was the largest gold strike ever for New Zealand, and quickly led to a rapid influx of foreign prospectors to the area – many of them veterans of the recent gold rush in California, as well as similar finds in the gold fields of Victoria, Australia.
One such miner, named Jean Desire Féraud, was of French descent – from a wine-making family in Burgundy, no less. Upon his arrival in Otago, Mr. Féraud quickly made a fortune from gold – so much so that the location of his lucky strike, located on the west bank of the Clutha River, is now known as Frenchman's Point.
With his newly-found riches, Mr. Féraud bought 100 acres of land and planted orchards, herbs, and vineyards. He also built a winery, known as Monte Christo. Most of the wine was sold locally, but one batch – believed to be Pinot Noir from the 1879 vintage – won a third-place medal in the "Best Burgundy" category at an 1881 competition in Sydney.
Despite this success, Féraud's efforts were not enough to win over the locals – most of them miners and farmers who preferred whisky and beer – to the love of wine, and Féraud soon sold the winery.  It was purchased by James Bodkin in 1889, and the property remains in the Bodkin family to this day.
Thus, the first wave of wine production in Central Otago was short-lived, and, as we all know, the modern wine industry took until the 1990s to really get going. It does, however, seem like Mr. Féraud knew what he was doing, as Pinot Noir is now the leading red grape of New Zealand. And Central Otago, famous for being the southernmost wine region in the world, is equally well-known for its fragrant, intense, silky Pinot Noir. To wine lovers, and hopefully to the legacy of Jean Desire Féraud, that's as good as gold.
Click here to return to the SWE Website