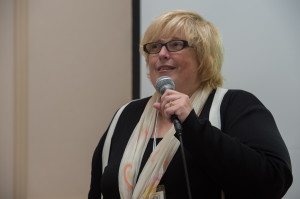 Our heartfelt congratulations go out to Sharron McCarthy – SWE Past President and current Director Emeritus!
Sharron was – just yesterday – inducted into the Italian Trade Commission's Hall of Fame for "outstanding leadership, contribution, and lifelong dedication to the appreciation, education and marketing of Italian wines in the US." The Hall of Fame induction took place at a luncheon at New York City's Waldorf Astoria Hotel, as part of VINO 2015 – Italian Wine Week.
Sharron, who is Vice President of Wine Education for Banfi Vintners, is a gifted wine educator and is consistently among the most popular and highest-rated speakers at SWE's Annual Conference. (Be sure to congratulate her and say "hi" next August in NOLA)! Harry Mariani, the President Emeritus of Banfi Vintners, was also among the 17 honorees at the event.
It's nice to be in the Hall of Fame!