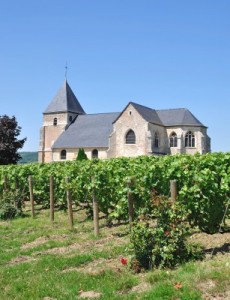 Every good wine student knows the three main grapes of Champagne – repeat after me, "Chardonnay, Pinot Noir, and Pinot Meunier." And yet, there are more!  While the three well-known varieties are far and away the most planted in the region, the Champagne AOC actually has seven grapes approved for the use in the famous bubbly.  The other approved grapes include Arbane, Petit Meslier, Pinot Blanc, and Pinot Gris.
The Champagne House of Aubry is an interesting part of this story, and their story is how I first came upon this information.  It seems that back in 1986, the owners, Philippe and Pierre Aubry, started to think about how they could create a special wine to celebrate the producer's 200 year anniversary, to be celebrated in 1991.  They got the idea to create a wine that would reflect the wines that were being made in the region in the 1770's, when the business began. 
After extensive research, they discovered that many of the grapes that were grown in the Champagne region at the time were almost  forgotten, and in some cases, verging on extinction.  They located the grapes, and planted Arbanne, Petit Meslier, Pinot Blanc, and Pinot Gris. While the grapevines were not mature enough to harvest for their bicentennial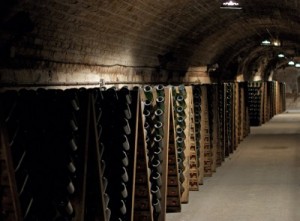 vintage, they did begin harvesting their "forgotten" grapes in 1993 and by 1994 were able to harvest all 7 grape varieties.  The cuvee they created in 1994 is named "Le Nombre d'Or," meaning "The Golden Number, " representing the 7 grapes of the Champagne Region.
Arbane is a white wine grape variety that was historically planted in the Aube region of Champagne.  It is now very rare; its plantings in the entirety of France add up to less than one hectare (2.5 acres).  The Champagne House Moutard-Diligent makes a 100% Arbane Champagne called Vieilles-Vignes as well as a Cuvée 6 Cépages that includes Arbanne as well as Pinot Blanc and Petit Meslier.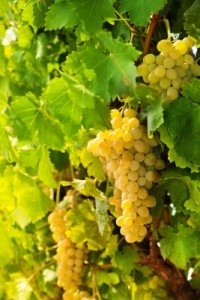 Petit Meslier, a white variety, is a close relative of Chardonnay, being the result of a cross between Gouais Blanc (one of the "parents" of Chardonnay) and Savagnin. While the grape is extremely rare, it used to be widely planted in Champagne due to its ability to retain a good deal of acidity even in the region's warmer areas.  There does seem to be some growing interest in the grape, as plantings have recently increased from 4 to 20 hectares in France.  Irvine Wines, in Australia's Eden Valley, has planted a small amount as well.
Pinot Blanc, a color mutation of Pinot Noir, was historically widely grown in both Burgundy and Champagne. It is grown in tiny amounts in the Champagne region, where it is likely to be referred to as "Blanc Vrai."  In principle, it may still be grown in small amounts in Burgundy, but we won't say that too loud, and no one is stepping up to confirm the suspicion!  I did find several Champagnes that use Pinot Blanc in the mix, including Champagne Tassin's Brut Cuvée Elegance, which states that it is made from 50% Chardonnay and Pinot Blanc, 50% Pinot Noir.  
Pinot Gris is most likely native to Burgundy and is thought to be a color mutation of Pinot Noir.  Along with Pinot Noir it spread from Burgundy, and was widely grown in the Champagne region back in the 18th century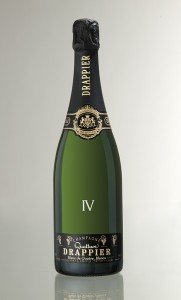 under the name "Fromenteau." Eventually, plantings in Champagne dwindled as the grape was found to be very low yield and unreliable. I found just a few references to Pinot Gris vineyards on the dozens of Champagne Producers' websites I researched, and only three  wines that claimed Pinot Gris in the makeup, all of the them claiming to be made from the "7 grapes."  At least from this vantage point, it seems like Pinot Gris might be the most obscure Champagne grape of all.   
The House of Drappier produces a Champagne called "Quattuor." Quattuor features Petit Meslier, along with Arbanne, Pinot Blanc (here called Blanc Vrai) and Chardonnay in equal amounts.  The wine is described as fruity, floral, and delicate, and is dedicated "To The Forgotten Grapes of Champagne."
For more information: