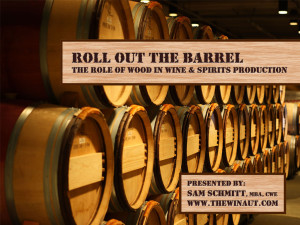 This Friday – September 4th – at 12 Noon central time – we will be offering a fun SWEbinar called "Roll out the Barrel!" Who can resist that? Technically titled "Roll Out the Barrel: The Role of Wood in Wine and Spirits Production," this session will be presented by Sam Schmitt, CWE.
Here's a quick synopsis of this one-hour session: Wood barrels, oak in particular, have been a key part of wine and spirits production for centuries.  In fact, many classic wines and spirits require aging in wooden barrels by law.  But what does wood do to wines and spirits as they age?  What distinguishes French Oak, American Oak, and Hungarian Oak from one another and why aren't other woods more commonly used?  How are barrels made and why do they come in such a broad range of "toasts" and sizes?  Why do some wine and spirits makers use old, "neutral" oak instead of stainless steel?  These and other questions will be discussed in a one hour SWEbinar session presented by Sam Schmitt, CWE – a DTC Consultant, Wine Educator, and Wine Writer on The Winaut.com
SWE's SWEbinar series is unique in that it is offered free-of-charge, and open to the public! We also try to accomodate all schedules by offering sessions on weekdays and weekends, as well as daytime and evening hours. If you have a topic you would like to see addressed, or a time-of-day that would work for you, please let our Director of Education, Jane A. Nickles know via email at jnickles@societyofwineeducators.org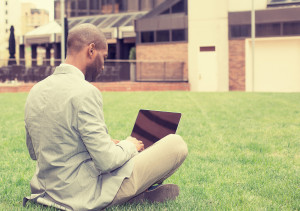 Login Instructions: At the appointed time, just click on the link provided below. There is no need to register in advance. Links will be attached to the date and time announcement of each session in the list below and will go "live" a few hours before the scheduled date.
When the SWE Adobe Connect homepage appears, click on "enter as a guest," type in your name, and click "enter room." Remember that each session is limited to 100 attendees, and that several of our past sessions have reached capacity. We are hoping to avoid this issue in the future by offering more SWEbinars, but its still a good idea to log on early!
If you have never attended an Adobe Connect event before, it is also a good idea to test your connection ahead of time (just click on the link).
If you are having any trouble with your Adobe Connect connection, please see our SWEbinar Trouble-shooting page.
Link: Friday, September 4th – 12 Noon CDT – Roll out the Barrel with Sam Schmitt, CWE (Link will go "live" a few hours before the scheduled date/time.)
If you have any questions, please contact Jane Nickles: jnickles@societyofwineeducators.org
Click here for the 2015 SWEbinar Calendar
Are you interested in being a guest blogger or a guest SWEbinar presenter for SWE?  Click here for more information