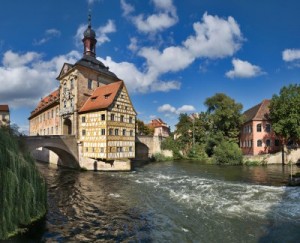 Have you ever felt that German wine terminology, with its Geisenheimer Rothenberg and its Amtliche Prüfungsnummer is a bit confusing?
If so, hang on, because it just got a bit more interesting. In keeping with the EU wine blueprint, German wine law was recently reformed for the first time since the last set of major revisions in 1971.  These latest changes occurred in 2009, and now wines are divided into three broad categories, with all kinds of loops and squiggles betwixt and between.
Many of these terms will look and sound familiar to serious students of wine.  But if you happen to be studying for a certification (or any other reason) look closely…there are some significant changes, particularly in the names of the categories.
The new levels of the classification hierarchy for all wines, in ascending order of quality are: 
Wein:

  This category, previously referred to as tafelwein or table wine, is used for basic wine. There are very few guarantees of quality at this level and most wein is made for the domestic market. These wines may be enriched or chaptalized to increase the final alcohol level of the wine. Some of the wine available at this level is imported bulk wine, mostly from Italy. In order to use the term "Deutscher Wein" the wine must be 100 percent German in origin.

ggA – Geschützte Geographische Angabe:

  This category contains what used to be referred to as "landwein" or "country wine." These wines correspond to the PGI category in the overall EU scheme and are a step up from the basic wein category.  At this level, the grapes must be slightly riper than those for wein (half a percent more potential alcohol); however, chaptalization is still permitted. A minimum of 85% of the grapes must be grown in Germany in one of the designated landwein regions, with the particular region specified on the label.

gU – Geschützte Ursprungsbezeichnung:

  This new designation has two sub-categories, and  includes those wines previously covered by the  Qualitätswein bestimmter Anbaugebiete (QbA) and  Qualitätswein mit Prädikat (QmP) categories. All of these wines are PDO wines. They must carry a place name on the label, with 100% of the grapes from the named region.  The terms Qualitätswein (QbA) and Prädikatswein (QmP) will continue to be used.
The subcategories of gU (Geschützte Ursprungsbezeichnung) are as follows:  
 Qualitätswein is the lower level of the two gU categories. These wines are defined as "quality wine from a designated region."  These wines represent the largest proportion of German wine output. Qualitätswein wine must come from one of thirteen Anbaugebiete (specified winegrowing regions), be made with one of the approved grape varieties, and reach sufficient ripeness for recognition as a quality wine. Chaptalization is, however, permitted for this category.
To make matters just a bit more complicated, wines at the Prädikatswein level, have another element in their name which indicates the level of the ripeness of the grapes at harvest.  Luckily, these terms have not changed, but just as a refresher, here they are:
Kabinett:

light- to medium-bodied wines made from grapes with the lowest ripeness level of the prädikate. These wines average 7 to 10 percent alcohol.
Spätlese ("late harvest"): wines of additional ripeness made from grapes harvested after a designated picking date. With the extra ripening time, the grapes develop more intense flavors and aromas than Kabinett.
Auslese ("selected harvest"): wines made from grapes that have stayed on the vine long enough to have a required level of sugar. The wines can be intense in bouquet and taste, and they have a potential alcohol level in excess of 14 percent.
Beerenauslese (BA; "selected berries"): rich, sweet dessert wines made from individually harvested berries, which are sweeter than Auslese and which may also be affected by the honeyed influence of botrytis, known in German as Edelfäule.
Eiswein ("ice wine"): wines made from frozen grapes harvested at a BA level of ripeness or higher. Having already become overripe from staying on the vine as late as January, these grapes are harvested after they freeze in the vineyard. They are crushed immediately, and much of the water in the berries is discarded as ice, leaving grape must with a very high sugar level (see chapter 5).

Trockenbeerenauslese

(TBA; "selected dried berries"): wines from individually picked berries that are overripe to the point of being raisins and are often further shriveled by botrytis. TBAs are considered to be among the world's greatest dessert wines.
It's all about the sugar:  In the post-1971 wine regulations, historically renowned vineyards and other aspects of terroir have been largely ignored in favor of classifying wines by grape ripeness.  This priority makes a good deal of sense in the cool-climate vineyards of Germany, where ripeness is never guaranteed, and when it is achieved, it is given the honor it is due.
But terroir is not to be forgotten: Some top-notch wine producers in Germany draw attention to their unique and diverse terroir through the efforts of the VDP.  The VDP, "Verband Deutscher Prädikatsweingűter" was founded in 1910 as the Association of German "Naturweinversteigerer" (natural, meaning non-chaptalized) wines.  Today, the VDP has member estates from all 13 Anbaugebiete with the goals of preserving Germany's traditional viticultural heritage, encouraging excellent wine production, and designating top vineyards sites in each region. The VDP classification system of top vineyard sites was revised in 2012 and now has four levels of classification. These are listed below, in order from listed from highest to lowest:
VDP Grosse Lage: The highest level vineyards of the estate, translated as "great site." (The term Erstes Gewächs ("first growth") is used in the Rheingau, and there are other regional variations as well.)
VDP Erste Lage: The second highest level vineyards of the estate, translated as "first site."
VDP Ortswein: Translates as "classified site wine."
VDP Gutswein:  Represents good, entry-level wines, translated as "estate wine." The wines originate from an estate's holdings within a region, and meet the stringent standards prescribed by the VDP.
Whew! I know that was pretty tough to read, but wasn't it worth it to consider yourself up to date – at least for now – on the German wine classifications?
Let's hope so!