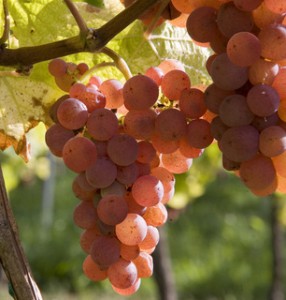 The grape known as Klevener de Heiligenstein is an enigma. It is an allowed grape in the Alsace AOC, but can only be grown in certain places.  It has nothing to do with Klevner, as Pinot Blanc is often called in many places, including Alsace.  In Germany and Italy, Klevener de Heiligenstein is often called Traminer. However, Klevener de Heiligenstein should not be confused with Gewurztraminer, even though the two grapes appear identical while on the vine and they produce similar wines. Got that?
So, now that we are clear on what Klevener de Heiligenstein is NOT, let's talk about what it is.
Klevener de Heiligenstein is a pink-skinned grape variety that is also known as Savagnin Rose or Traminer.  In Alsace, the grape is also called Rotedel or Edelrose. There are currently about 240 acres of Klevener de Heiligenstein planted in Alsace, where it is made into a concentrated wine of good acidity with a characteristic hint of bitterness on the finish.  While not overly aromatic, the wines are often described as similar to Gewurztraminer in terms of a slight spiciness and a rich texture.
It is known that the grape was originally brought to the town of Heiligenstein in 1742 by the mayor of the town, Erhard Wantz. It is believed that the cuttings Mayor Wantz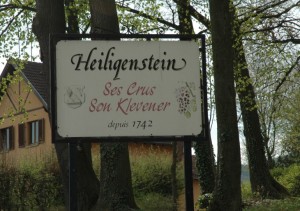 possessed came from vineyards planted near the Italian Alps in Lombardy.  Mayor Wantz was a big fan of the grape, and petitioned Le conseil des Echevins de Strasbourg for permission to plant the grape in the region. He won the right to plant his grapes, and soon the wines were well received and even earning higher prices than other wines of the region.
In 1971, the Klevener de Heiligenstein grape was approved for use in Alsace AOC wines.  However, it is the only grape in Alsace that has geographic restrictions placed on it. As such, it is only allowed to be used by specified vineyards in the village of Heiligenstein and four of its neighbors, including Bourgheim, Gertwiller, Goxwiller, and Obernain.  A grandfather clause allows specific vineyards outside of these regions to use the grapes in AOC wines until 2021; however, outside of the 5 approved villages, plantings or re-plantings are no longer allowed.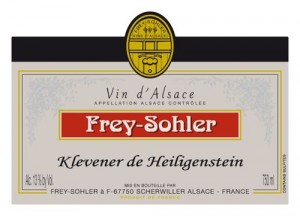 Ampelographer Pierre Galet claims that Klevener de Heiligenstein is a pink-berried mutation of Savagnin that traveled to Alsace, Germany, and other parts of Central Europe.  But here's where the story gets interesting…Savagnin Rose, aka Traminer, aka Klevener de Heiligenstein, apparently, somewhere along the way, went through a secondary mutation that became Gewurztraminer.  It makes sense, as Gewurz is often thought to be the musqué, or highly aromatic, version of Traminer.
The Alsace 11: The curiosity known as Klevener de Heiligenstein is often referred to as the "phantom" grape of Alsace.    The other 10 grapes of Alsace, as every serious wine student should know, are Riesling, Gewurztraminer, Pinot Gris, Pinot Noir, Pinot Blanc, Sylvaner, Muscat, Chasselas, Auxerrois, and Chardonnay.  Chardonnay is also something of an outlier, as it may only be used in Crémant d'Alsace AOC – the sparkling wines of the region.