Convinced that it comes in multiples of 3 days, residents of Provence will tell you that the Mistral Wind blows for 3, 6, 9 or 12 days.  Referred to as "Le Sacre Mistral," it is blamed for headaches, edginess, and the bad behavior of husbands, pets, and children. They swear it is what drove Vincent Van Gogh to chop off his own ear.
The Mistral is a cold, dry, regional wind that occurs each time there is an area of high pressure in the Bay of Biscay accompanied by an area of low pressure around the Gulf of Genoa.  It occurs mainly during the winter and spring, but it can happen at any time during the year. Its cooling effect is perhaps most welcome in the summer, but during the winter it can chill one to the bones.
Roaring in from the north, the strong wind accelerates as it passes through the southern Rhône Valley, funneling between the Ardeche Mountains the low Alps before it heads out to the gulf. Marseilles and St. Tropez often take the full brunt of this cold, strong wind as it finally reaches the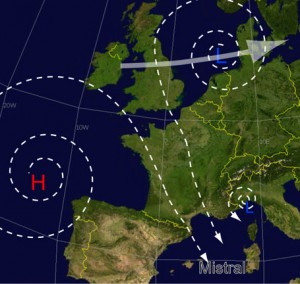 sea and continues its trek to influence the weather in North Africa, Sicily, and all across the Mediterranean.
In the Rhône Valley and Provence, the regularity and force of the mistral causes trees to grow leaning to the south. Vines are often kept low to the ground, their thick and sturdy branches developing a permanent south-facing bow. The rows of Cypress and Poplar trees typical of the region provide shelter from the dry force of the wind.
The Mistral, despite its ferocity, can nevertheless be beneficial to the vineyards in its path. The mistral blows the clouds from the sky and heralds the arrival of sunny weather. When the Mistral blows during the warm parts of the growing season it cools down the vines, helping the grapes to retain acidity through the hot summers. The dryness of the wind keeps the grapes free from humidity and mold, and has earned it the nickname mange-fange, or "mud-eater."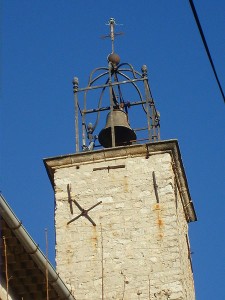 Many wine makers believe that Le Mistral causes substantial evaporation in the grapes, concentrating sugar, acidity, and flavors.  And when the wind finally slows down, it is followed by days of clear, bright sunshine, enabling the grapes to ripen and ripen and ripen….
The name of the Mistral is traced to the Provencal word for "Masterly" and it certainly has had such an effect on life in Provence.  Old farmhouses were built facing south, with sturdy north walls devoid of windows.  The bell towers of the churches in the region are often topped by open iron frameworks, which allow the wind to pass through.
There was even once a law that stated that anyone who claims to have gone mad on account of the Mistral may be pardoned of their crime.  Sacre Mistral!