The Ningxia Hui (pronounced Neen-sha H-way) Autonomous Region of China is located about 500 miles west of Beijing. The Ningxia region has proved to be one of China's most promising areas for viticulture and wine production, and as such is the focus of significant investment. China's first official appellation, the Eastern Foot of Helan Mountain Wine Region is located here, and several international companies have interests in this zone.
Ningxia has, by some counts, over 50 wineries making a range of wines using Cabernet Sauvignon, Cabernet Gernischt (the local name for what has recently been confirmed to be Carmenère), Chardonnay, Riesling, Syrah,  and other grapes. This includes some of the highest quality wines in China, some of which are starting to win medals at international competitions.
The area is basically an alluvial plain of the Yellow River, situated on the eastern edge of the Gobi Desert, south of Mongolia. Due to centuries of agriculture, the soil here has been depleted to a fine type of loess soil, highly susceptible to wind and water erosion. Viticulture is encouraged due to its affinity with such marginal conditions, and to help prevent further erosion in this area.
Thoroughly landlocked, Ningxia has a true continental climate, with significant day/night and summer/winter temperature variations. Summertime temperatures into the 80s F (upper 20s C) are assuaged by the altitude of the vineyards, which typically approach 4,000 feet (1,200 meters) above sea level. The winters are long and very cold, however, which means that many vines must be buried under an insulating layer of dirt in order to survive.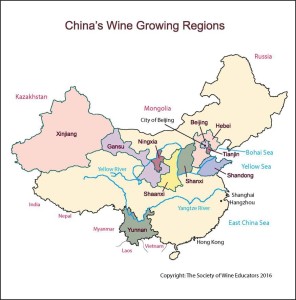 The months of December through February also see negligible precipitation; rainfall is concentrated in summer months, reaching only 8 inches (194 mm) annually. Irrigation is necessary for agriculture, and early methods to divert water from the Yellow River, which flows through much of Ningxia, were developed during the Xia Dynasty (2100 – 1600 BC) and expanded in later periods.
In 2013, Ningxia established a classification modeled after the 1855 Classification of Bordeaux. There are five classes or "growths." The first ten properties have been selected as so-called 5th growths; these wineries will be eligible for promotion to a higher rank every two years. The stated intention is to have wines at all five tiers in due course. The classified properties must adhere to Ningxia's regional regulations requiring that only 75% of the grapes must be grown in the region, and that 85% are to be from the vintage and grape variety stated on the bottle (as reported by Wine Spectator).
Moët Hennessy's newly completed Chandon winery, which released its first wine in 2014, is located in Ningxia, and provides a notable exception to the dominance of still red wines in Ningxia and throughout China. The regional government has announced an ambitious development plan for Helan Mountain East, increasing acreage to 165,500 acres (67,000 hectares) by 2020. There are possibly as many as 100 leases that have been granted for new wineries in various stages of construction. The companies in this locale include Xixia King, Helan Mountain (Pernod Ricard), Helan Qing Xue, Chateau Yunmo, Silver Heights and Changyu.
China recently was confirmed to have the second largest vineyard acreage of any country in the world, following Spain and ahead of France and Italy. By last count (according to the 2015 report of the International Organization of Wine and Vine (OIV)), China now ranks #5 in consumption and #8 in production of wine, worldwide.
It's yet to be seen what's on the horizon for Ningxia – and the rest of the Chinese wine industry as well!
Post authored by Jane A. Nickles – SWE's Director of Education and Certification –  jnickles@societyofwineeducators.org
Are you interested in being a guest blogger or a guest SWEbinar presenter for SWE?  Click here for more information!