Today we have a guest post from Mark Rashap, CWE…
In today's Information Age, online opinions, tasting notes, blogs, and general wine writing have become omnipresent. This is both good and bad for readers looking for reliable information.
There is such a broad range of quality in this collective literature – from bragging about tasting an iconic wine (which does the reader no good) to describing a conversation with a winemaker in a unique wine region (which can inspire and serve as an informational resource).  I'm not suggesting that everything we write and put into the virtual world must be ground-breaking or a brilliant philosophical essay.  However, I do think that we can demand more from our own writing, strive to improve our own appreciation of wine, and serve as insightful mentors for folks scouring the internet looking for answers to questions they didn't even know they had.
When I teach a wine class, whether it is an advanced theme or basic wine appreciation, I am never content with students describing a wine simply in terms of "I like it" or "I don't like it."  This tells me nothing about the wine's character nor the student's tastes and experiences on which we can build; in effect, it stops the conversation.
Instead, I try to encourage students to be honest with themselves and get into the "why" and the "how" of what they're describing.  In fact, for beginners, I believe that "I don't know" is a much better thing to say in describing a wine than "I don't like" because it implies that that there is an underlying "something" that, with practice and instruction, one may be able to grasp.
Perhaps even knowledgeable and experienced wine professionals could do a better job in writing about the why and how they think about a wine, a region, or a vintage, instead of rattling off 3-5 descriptors that are similar to the last ten wines described with the score being the only differentiating factor.  All wines—at least all of quality—have a particular fingerprint that makes them unique from the next, and it would be beneficial to the reader if the critic would attempt to penetrate that unique aspect.
In Matt Kramer's recent publication True Taste (2015), he gives a succinct history of wine writing and offers some theories as to how we have become so homogenized when it comes to describing and rating wines.  He goes on to describe 7 abstract qualities around which he believes all wines should be judged: Harmony, Texture, Layers, Finesse, Surprise, Nuance, and Insight, which he correlates to writing tasting notes and overall wine appreciation.  As he defines it, "Experience + Thought + Synthesis = Insight."  I think this is a brilliant way to judge wine writing, as well as interactions with the wine professionals who work in restaurants or retail outlets.  If one shows a high level of insight, I believe it is worth going back to that wine shop or that restaurant, or continuing to read that blog.
Kramer emphasizes that experience—although it is to some degree required—is not the only characteristic of someone worth listening to.  Visiting Bordeaux for 20 years straight and compiling 20 years' worth of tasting notes simply provides us with a lot of data.  On the other hand, the thought process built around those notes—such as synthesizing soil variations with vintage character and the internal workings of the winery—now, that is the real juicy stuff a reader wants to digest.
As wine professionals, we must demand insight from ourselves, our writing, our teaching, and from others.  When teaching, I try to reinforce to young and enthusiastic wine lovers that experience is not everything, and that not everybody extracts the same amount of knowledge from each experience.  One year of critical tasting, with close attention paid to drawing correlations from all the factors that have gone into making a wine is worth more than a lifetime of drinking first growth Bordeaux.
Blogs, social media, and open source platforms for wine reviews allow us access to so much information that was previously unavailable.  We can now get news and harvest updates from wineries directly from their Facebook, Twitter, and blog pages.  However, there is a temptation to produce content just to occupy space in the social media sphere whether we have something to say or not.  Let's collectively resolve to ask ourselves to delve a little deeper in describing wines and the condition of appreciating wine.  We will indeed learn more from asking these questions ourselves, and just might be able to nurture the younger and savvier wine community as well!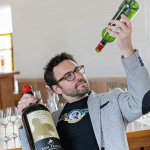 Post authored by Mark Rashap, CWE. Mark has, over the past ten years, been in the wine world in a number of capacities including studying wine management in Buenos Aires, being an assistant winemaker at Nota Bene Cellars in Washington State, founding his own wine brokerage, and working for Texas-based retail giant Spec's as an educator for the staff and public.
In August of 2015, Mark joined the team of the Society of Wine Educators as Marketing Coordinator to foster wine education across the country.
Are you interested in being a guest blogger or a guest SWEbinar presenter for SWE?  Click here for more information!