Today we have the first of a two-part series from guest blogger Paul Poux. Paul tells us about his recent visit the Jura to reunite with family and drink some local wines. But will he ever make it to a winery?
"We arrived at our cousins' home in the Jura during a sparkling afternoon in July. There was a heat wave in the rest of France but in these low mountains near the Swiss border, it was cooler. I could hear rushing water from a nearby creek; other than that, there was a lovely stillness. The large old house from 1830 sat in the center of a village of 200 people, on the old road between Geneva and Dijon. Across the street was the village church with its small cemetery, containing many headstones with the name POUX. I had returned home.
Our cousins celebrated our arrival with an aperitif—foamy Crémant du Jura, a Classic Method sparkling wine that is one of eight Crémant designations in France. It is usually 100% Chardonnay, which should not surprise in a region that sits just east of Burgundy. Its yeasty apple flavors rinsed away the long car and train journeys that had brought us here.
At dinner that night we ate fondue made with Comté, the famous local cheese. The correct fondue recipe according to my cousins (and to French people there is always a "correct" way) also contains white wine from the Jura, and the cherry brandy Kirsch. Our cousins warned us not to drink water while eating fondue or we'd get sick—something about a ball of cheese in the stomach not settling right. We were advised to stick to wine, and sips of Kirsch. Non-drinkers were prescribed hot tea.
We would eat a lot of cheese that week, including at breakfast, when large pieces of Comté and Morbier were featured along with the traditional bread, butter, jams, and yogurts.
A highlight of my vacation was to be a day trip to Jura wineries later in the week. My cousin Jean-Marie sat down to talk to me about it. Jean-Marie just turned 70 but is still in the business of "running companies." As you might expect, he is direct and businesslike. I told him I was open to almost anything, but there was one winemaker I definitely wanted to visit: cult producer Jean-Francois Ganevat. My cousin's reaction was immediate.
"We can't go there. It's not correct."
Jean-Marie made up for his brusque demeanor with his hosting, and the next day he took us on a long hike into the mountains. The Jura has an extensive network of well-marked hiking trails showcasing gorgeous scenery, and this walk took us up through forest and across fields that sparkled with wildflowers. I noticed a particularly large yellow flower and Jean-Marie told me that it is called gentiane ("jahn-si-AHNN"), growing only above a certain altitude. Residents dig up the roots and distill them into a bitter spirit.
We also saw the cliffs where France ends and Switzerland begins. A trail up the cliffs was an escape route during World War II, used by Jews and many others when the Nazis occupied the Jura, including my cousin's house.  
That evening Jean-Marie held an aperitif (the French shorten it to "Apero") on his terrace. I was surprised to see an elaborate Absinthe dispenser. A steady drip-drip of the green spirit on sugar cubes into glasses punctuated the small talk as we learned that Absinthe was created nearby in Switzerland and is still made there and in the Jura, and that all the hysteria surrounding its ingredients and supposed effects is overblown. Jean-Marie added water to each glass, turning the drink cloudy. It tasted of anise, and herbs. 
The next morning Jean-Marie came to see me about our trip to the wineries. He had a map of the Jura wine region and all its producers. I opened the map and looked longingly at the winery I was 'forbidden' from visiting. It was some distance away from the areas that Jean-Marie felt were most important. I told him I understood and that I was glad to leave all visits up to him. He smiled. This seemed to be the 'correct' answer. 
That night we ate dinner at a nearby restaurant. The entire group, 20 of us French and American, sat around an immense table. Jean-Marie came to me with the wine list, and it was nice of him to consult with me before ordering the wine he wanted. He recommended a rosé from the town of Arbois to pair with the various appetizers. Arbois is the spiritual capital of Jura wine country. This rosé was a blend of Pinot Noir and Poulsard – a thin-skinned red grape with very little color, perfect for rosés.  Dad and Jean-Marie made toasts, and we chatted excitedly with our cousins. The main course, local trout, arrived, and I told Jean-Marie I wanted to change the wine. He objected: "The rosé is perfect, let's continue!" But I was in the area for only a week and had to sample as many wines as I could. My choice: a local Chardonnay called "Arrogance."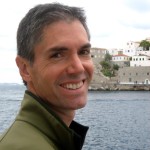 Our guest blogger, Paul Poux, CSW, finds joy in combining food, wine and travel. Paul provides wine education 'experiences'  to Millennials for wine brands and regions; and does marketing and sponsor management for food and wine festivals around the country. Paul's favorite wines are Amarone and Muscadet. Tell him yours at paul@pouxcompany.com
Click here to return to the SWE Homepage.
Are you interested in being a guest blogger or a guest SWEbinar presenter for SWE?  Click here for more information!