Today we have the second and final installment of our of a two-part series from guest blogger Paul Poux. Paul tells us about his recent visit the Jura to reunite with family and drink some local wines. Click here to read part one!
"The next day looked like rain, but it was winery day and we were going to be inside tasting rooms so I didn't care. My Dad, my husband, and I squeezed into Jean-Marie's small Audi and drove to our first stop, Arbois. On a road overlooking the town, Jean-Marie kept trying to point out the view but the rain was slapping against the windows. I thought we were going to visit a winery first, but we passed the imposing cathedral and Jean-Marie decided a quick stop was in order. The Romanesque church of St Just was built in the 12th century yet has a warm, comfortable feeling, with stone vaulted arcades letting in lots of light through stained glass windows, one of which depicts vignérons harvesting grapes.
Our next visit was not a winery either, but a café and famous chocolatier, Hirsinger. The rain had stopped and we sat in the center of beautiful Arbois, surrounded by Medieval buildings. There is a lot of wine history too, including Louis Pasteur who lived there and pasteurized wine. Tasting rooms and wine shops were visible on every corner. As we walked back to the car we passed a few of them. "That one, Stéphane Tissot, is good," Jean-Marie says, but we didn't stop. He had somewhere else in mind.
In the car, Jean Marie said, "You know Paul, there is a saying: Arbois le nom, Pupillin le bon." (perhaps, "Arbois has the name, but Pupillin's got game.") The village of Pupillin sits on a hill just two miles from Arbois, with south-facing slopes, and the exposure and limestone soils make for superior wines. We drove up the hill, to the large Domaine Désiré Petit. The parking lot was empty and the front door locked. It was Noon, and they had just closed for lunch. "Eh, oui," Jean-Marie says, with a shrug.
Dejected, we got back in the car and drove through vineyards and pastures to the village of Chateau-Chalon. Driving through its beautiful and tidy streets, Jean-Marie said, "These towns are all rich from making wine." Chateau-Chalon sits on the top of a bluff, protecting the vineyards stretched out far below from cold winds and storms. I was hungry but we marveled at the gorgeous view. "These are all the Savagnin grape," said Jean-Marie. Savagnin is the most famous grape of the Jura, the only grape allowed in the oxidative Vin Jaune, and the best examples of Vin Jaune often come from Chateau-Chalone.
Members of my family arrived in another car and we walked to a restaurant for lunch where we tried Savagnin, in a blend with Chardonnay. In her book Jura Wine, author Wink Lorch says that most Savagnin is initially aged as if it is to become Vin Jaune, left in the barrel without topping up, to develop the veil of yeast on its surface similar to flor. Some does not age as long as the six years and three months required for Vin Jaune, however, and is bottled simply as Savagnin even though it has gone through some oxidation. These days, some Savagnin is also produced as a non-oxidative wine, referred to on label as Savagnin Ouillé (WEE-lay).
But that is not this wine. My nose told me right away it was oxidative, and it had a sharp taste, like that of a stinky cheese without the cheese smell, and a finish of salty almonds. The taste surprised my family and they tried to be good sports, but they didn't really drink much more of it until our lunch arrived. Each of our dishes, from chicken to veal to a pot pie, had fresh morel mushrooms in a creamy Vin Jaune sauce and my family ate it all, wiping up the last drops of sauce with their French bread.
Later that afternoon, we knocked on the door of tasting room. Philippe Butin is a small producer and opened the door himself. Jean-Marie called out, "Do you remember me? I bought your wine and shipped it to Luxembourg?" Phillipe looked at Jean-Marie, paused, then said, "Maybe," and stood aside for us to enter. The small room was warm and welcoming. Boxes lined one of the walls, awards another. About a dozen bottles beckoned from the bar.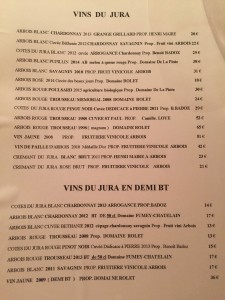 Finally!
Philippe asked us whether we'd like to try his Crémant, and before I could answer, Jean-Marie said, "They didn't come here to taste that."
"What's wrong with my Crémant?"
"Let's not waste their time!"
Philippe grunted and started to pour out a very light looking red wine.
"I would like to taste the whites," I said, and Philippe told me I would, but that in the Jura, the reds are always poured before the whites. This was news to me, and interesting. It's because of the power of Vin Jaune that the whites are tasted last. The red he had poured, such a light red that Philippe Butin called it "rose" (not rosé), was a Poulsard – the one we had in the rosé earlier that week. Poulsard is hard to vinify without getting funky flavors, but this wine tasted clean and refreshing, all delicate red fruits and spices.
We tried a Trousseau, with a similar taste profile but slightly meatier, and ruby in color. My family, a little stung by the Savagnin at lunch, was enjoying these wines. Trousseau grapes need warmer weather that seems elusive in the Jura, where summer is short and early July and late August can bring rain and high temperatures in the 50s. But this Trousseau had good balance.
At last, the winemaker poured golden glasses of Vin Jaune out of its traditional clavelin bottle. The bottle, shaped a little like an old schoolteacher's bell, holds only 620ml because that is about how much of one liter of juice remains after its long aging and oxidation. All the reading I had done on Vin Jaune included one interesting piece of advice: when you first try it, you should ignore what your senses are concluding, that the wine, with its oxidative nature and savory, nutty flavor, is bad. Instead, imagine that you are not familiar with what any wine should taste like, and sip it with an open mind.
I tell this to my family. They look dubious as they raise their glasses and sniff. I see more than one wrinkled nose. I look at the winemaker. He has seen this before: Vin Jaune is not for everyone.
We leave the tasting room. We have spent the entire day on the road and only visited one winery. As we head home, I confess that I do not yet appreciate Vin Jaune, the Jura's most famous wine. Perhaps I just need to keep an open mind.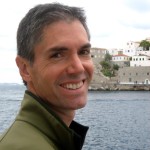 Our guest blogger, Paul Poux, CSW, finds joy in combining food, wine and travel. Paul provides wine education 'experiences'  to Millennials for wine brands and regions; and does marketing and sponsor management for food and wine festivals around the country. Paul's favorite wines are Amarone and Muscadet. Tell him yours at paul@pouxcompany.com
Click here to return to the SWE Homepage.
Are you interested in being a guest blogger or a guest SWEbinar presenter for SWE?  Click here for more information!