Today we have a guest post from Jim Laughren, CWE who gives us his impressions of last week's SWE Conference. 
Reflections on SWE's 41st Annual Conference from Jim Laughren, CWE
The 2017 Portland Conference of the Society of Wine Educators was one of the best events I have ever attended, a sentiment that I realize I have expressed more than once in past years. Unquestionably, Shields and the SWE Home Office crew, as well as the Executive Committee and Board Members work extremely hard to maintain the high standards of the conference. They assure that personable, qualified speakers present sessions of genuine interest and, occasionally, enlightenment. All as it should be, and usually is.
But like most SWE members, I have attended many wine seminars and conferences through the years, some excellent, some good, some that could have been missed. Speakers have ranged from teachers of outstanding ability to others less adept, even if equally enthusiastic. And of course, there's been the random bonehead or ego maniac at the podium, no doubt to make us appreciate the good ones even more.
This year, however, in flipping through conference pics and paying closer attention to my surroundings in sessions that I attended, an overlooked aspect of SWE's program came clearly into focus. I've often felt that the Society conference is unique but other than "bigger" and "more" I wasn't sure why. Lots of wine gatherings and seminars feature prominent speakers; incredible lineups of wine are practically de rigueur.
What, if anything, truly sets the SWE conference apart from all other such conclaves? The answer, I have come to realize, is the audience.
Not the fact that we rub elbows with other aficionados or that one needn't have more than a serious interest in things vinous to be included, not even that it's practically impossible to tell the professionals from the amateurs among those in the crowd, though all such aspects are wonderfully important. What's truly unique about this conference is the number of speakers and presenters who delight us at their session, only to slip quietly into the audience at the next.
Look around—the MS and the MW and the industry headliner who all dazzled at their own presentations are sitting in everyone else's sessions, whether led by a newly minted CSW or an uncredentialed student of some other region or aspect of wine.
Go to almost any wine conference open to both pros and the public and your only sighting of the big shots and of the headline speakers is while they pontificate from on high. They simply don't mingle with the masses at most of these events.
Yet, the SWE's own cadre of big names and big credentials—and we've got them: MWs and MSs and DWSs and CWEs and industry mavens enough to shake a stick at—attend our annual conference as much to receive as to give, to learn as well as to share. By their very presence they remind us that wine is a gigantic subject, one that no single person or palate can or will ever understand completely. It's the mystery of wine, of what it is and what it's been and what it will become that these students of the grape accept and acknowledge by their willingness to slip into the crowd and be one with all of us in our quest to learn and enjoy and appreciate.
So next year as you settle in to your various sessions, take a gander around the room. And realize that winos extraordinaire who have spent the last ten or twenty years pursuing credentials, in serious study, the industry movers and shakers, are just as interested in the topic about to be explored as you are. An MS here, and there another. An MW across the room. Give them a smile or a thumbs-up, say hello between sessions.
Remember, at most venues these are the people who speak and split. At the Society of Wine Educators, they're here, like the rest of us, to learn and to listen; to meet and network and revel in all that is wine. Not many places where the audience is as keen on the subject as the instructors. And that, I suspect—the quality of our educational offerings as evidenced by the quality of our audience—is a big part of what raises the Society of Wine Educators Annual Conference above the competition.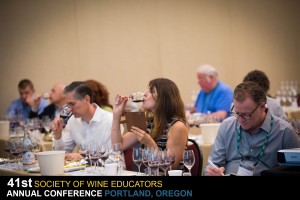 See you next year.
Jim Laughren, CWE—Chicago, Illinois—8/17/17
About the author: Jim Laughren, CWE is the founder of WineHead Consulting in Chicago. He has been buying, selling, drinking, trading, collecting, sourcing, importing, distributing, studying, consulting, and writing about wine for most of his life. He is the author of 'A Beer Drinker's Guide To Knowing & Enjoying Fine Wine,' a Kirkus 'Indie Book of the Year' in 2013, and has a second book, '50 Ways To Love Wine More,' scheduled for release this year. He travels frequently to wine regions around the world and greatly enjoys expanding wine's "customer base" by introducing new drinkers to the pleasures of the fermented juice.
Are you interested in being a guest blogger or a guest SWEbinar presenter for SWE?  Click here for more information!