As wine professionals, we often get to field questions from either the public or colleagues about the state of the industry.  In the months of October and November, there's no hotter topic than the quality of the harvest in the Northern Hemisphere.  Even though we won't get to taste these wines from bottle for another couple of years (or maybe even more), there's something rejuvenating and challenging about grasping how the climactic factors might be reflected in the wines.
As we all have our own techniques for compartmentalizing, comparing, and remembering the quality of vintage by region, I'll lead you through my thought process, which does not follow the chronological flow of harvest, but digs into a few regions and compares them against the others.
For me, I understand and remember vintages starting with Bordeaux, mostly because there is a lot of good data due to the financial impact of the vintage (prices can vary drastically based on good or bad reports) and partially due to being passionate about the region.
Francois Thienpont, owner of the Négociant Wings and brother of winemaker Nicolás Thienpont, reported that conditions in Bordeaux were ideal during flowering, setting the stage for perfect fruit set.  The summer was incredibly hot, which advanced veraison and
harvest a few weeks earlier than normal.  Francois stated that very gentle rains and a slight cooling off of temperatures in August and September were just what the vines needed; the acidity was maintained unlike 2003 for the dry reds of both right and left banks.  Hugo Bernard, heir to Domaine de Chevalier (in Pessac-Léognan), reported that acidity was lower for dry whites, but ripeness and alcohol were excellent.  Hugo admitted these whites might see less time in oak while in the winery, but further tasting will dictate this decision.  Botrytis set in perfectly for the sweet wines of Sauternes.
In Burgundy, harvest was finished by early September, which is a few weeks earlier than normal. High temperatures in July and water stress thickened skins and promoted ripeness; gentle rains and cooler temperatures in August helped to maintain acidity. For the first time in 4 years hail did not affect the yields of the great vineyards of the Cotes d'Or; however, there was minimal hail damage in Chablis and surrounding areas of Auxerrois. Overall, quality is very high; quantity is low but not as low as 2011-2014.
In Champagne, all indicators point to a fantastic 2015. The CIVC published the pick dates a few weeks earlier than usual, as well as granting permission to some properties to harvest even earlier. Many producers are excited, claiming that this one of the best vintages in the last 20 years. The CIVC also published the lowest permitted yields in the past 10 years.
In the Rhône Valley, a very hot July gave was to a cooler August.  Domaine de Mourchon published that rains saved the grapes rather than promoting rot, with cool mornings in September making cold maceration easy.  There should be good concentration in the wines, with balanced acidity.
The Loire Valley follows Bordeaux with warm summer, rains in September that dried quickly and allowed the grapes relief and to finish ripening with good acidity.
Alsace often has different conditions than does Bordeaux  – such as in 2007 and 2011 which were difficult for Bordeaux but excellent for Alsace.  For 2015, the CIVA reports huge ripeness and potential alcohol and are allowing acidification for the first time since 2003.  Many grand cru vineyards reached sugar levels that will not be possible to ferment to dryness.  Botrytis is also very scarce, meaning than many producers are opting for passerillage (drying the grapes or passito) in order to make sweet wines.
Stay tuned for a continued 2015 harvest report for the rest of the great regions of the Northern Hemisphere.  We would love to hear how you remember and file away the quality of the vintage by region.  Do you need a system, or can you just remember the particulars?  Do you use Burgundy as your anchor for comparison?  Do you remember regions as they are harvested chronologically?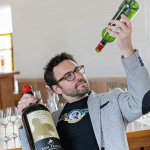 Post authored by Mark Rashap, CWE. Mark has, over the past ten years, been in the wine world in a number of capacities including studying wine management in Buenos Aires, being an assistant winemaker at Nota Bene Cellars in Washington State, founding his own wine brokerage, and working for Texas-based retail giant Spec's as an educator for the staff and public.
In August of 2015, Mark joined the team of the Society of Wine Educators as Marketing Coordinator to foster wine education across the country.
Are you interested in being a guest blogger or a guest SWEbinar presenter for SWE?  Click here for more information!