Today we have a guest post from Mark Rashap, CWE. Mark completes his three-part series on the 2015 harvest with a report on the harvest season in North America.
In two previous blog posts, we discussed the 2015 harvest in France, as well as the major regions of the rest of Europe.  In these posts, I described my method of remembering and mentally archiving vintages around the world by comparing them to the particulars of Bordeaux.  Through this technique, I find it is easy to draw similarities between regions. For instance, in 2010, regions all over Europe has results similar to those found in Bordeaux—which led to great phenolic ripeness with maintained acidity.
However, in 2007, there was a lot of variability and many regions differed from the cool rainy conditions of Bordeaux—in particular, there was very hot and arid weather in Piedmont and Tuscany.
Perhaps, this method of "compare and contrast" will help you remember and make sense of vintages. Or, perhaps, you approach the topic in an entirely different way—in which case we would love to hear about it!
This final installment of our three-part series on the 2015 harvest will cover the Americas and beyond. As such, there are certainly many parallels in the quality and nature of the 2015 harvest between North America and the great regions of Europe.  Most notably, this is one of the earliest harvests in recent memory.  Grapes came in 2-3 weeks early in most regions of California and Washington State, but only about a week early for Oregon and the Finger lakes.  As far as quality, almost all regions reported an excitement about balanced ripeness, tannin, and acidity.
Napa Valley:  The California Wine Institute reported that Napa Valley saw one of the earliest harvests of the last 30+ years.  Very little rainfall during the entire summer sped up ripeness.  Yields were extremely low, in part due to the drought, but mostly due to a cold and wet May which disrupted flowering.  The past 3 years have been quite productive for the vines, so this year was somewhat due for a light crop. In some cases the crop was 25%-50% lighter.  Cameron Perry, winemaker at Groth Vineyards and Winery, noted that the quality, however, for Cabernet is exceptional with big fruit flavors, ripe tannin, and high color pigmentation.

Sonoma County: The Russian River Valley was no different with harvest starting as early as August 14th.  Ripeness for the Pinot Noir was excellent with moderate retention of acidity.  The Zinfandel in Sonoma and Mendocino, in particular, benefitted from the mild nighttime temperatures.
Paso Robles: In Paso Robles, Tablas Creek Vineyard published an average yield of 2.01 tons/ acre, which was similar to 2009.  The intensity and quality was similar to that vintage as well.
Southern California: Vineyards throughout Santa Barbara saw the same story of very low yields due to drought and poor fruit set, but very high quality.
Oregon: Oregon's Willamette Valley saw a different story altogether with healthy yields all around. Chehalem Wines reported a 150% crop load over last year.  In some cases, the valley's Pinot Noir ripened in a typical "California style" with potential alcohol surpassing 14 degrees.  A very dry summer gave way to light rains in August which revitalized vines.  Perhaps, the vintage will be criticized for low acids.

Washington State: According to Tim Narby of Nota Bene Cellars , 2015 was a year when everything became ripe at once.  The summer was extremely hot and berries were very small, but vines did not seem to balk with minimal "raisinated" berries and total yields for the state setting the record for largest in state history.  Many wineries I spoke with were very excited about the quality, rich flavors, phenolic ripeness, and balanced acidity of the grapes.

New York: In the Finger Lakes, Cornell University Extension reports there is a lot of hope despite the tough year, which included a brutally cold winter, late frosts, torrential rains in June, and a hot July and August. Thankfully, conditions for harvest evened out, which created an excellent possibility of even ripening and extended hang time.  On Long Island, a dry harvest season has minimized fear of rot and allowed grapes to evenly ripen.
Texas: In Texas, winemakers are excited about a quality harvest after a very difficult 2013 and 2014.  Yields are healthy despite severe flooding in May and June bringing danger of molds and rot.
I hope that you have enjoyed and appreciated looking at a wide array of regions in a summary format.  Of course, it is up to us to delve deeper into the variability of what occurred in each microclimate and terroir as these wines reach the market and we are either selling them or teaching using them as examples.  I hope you're excited as I am to taste these 2015 wines as they are released!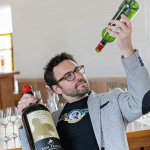 Post authored by Mark Rashap, CWE. Mark has, over the past ten years, been in the wine world in a number of capacities including studying wine management in Buenos Aires, being an assistant winemaker at Nota Bene Cellars in Washington State, founding his own wine brokerage, and working for Texas-based retail giant Spec's as an educator for the staff and public.
In August of 2015, Mark joined the team of the Society of Wine Educators as Marketing Coordinator to foster wine education across the country.
Are you interested in being a guest blogger or a guest SWEbinar presenter for SWE?  Click here for more information!
References